Right Choice Services
Omaha Nebraska's Premier Landscaping Company
Right Choice Services is one of the premier full service lawn care companies in the Omaha metro area. Our services include lawn maintenance, landscape creation, landscape maintenance and debris removal. Our experienced landscapers guarantee clean, prompt service.
Right Choice Services is a certified, professional lawn care and landscaping company that has been serving the Omaha area for nearly ten years. We serve both residential and commercial properties.
Don't trust your lawn care and landscaping to anyone with a lawnmower. Right Choice Services is licensed and insured. We offer a wealth of experience and expertise, at the same prices as inexperienced lawn care and landscapers.
I want to thank you for the terrific landscaping jobs that your company "Right Choice Services" has been doing for us. I really like the fact that you take before and after photos because it shows the huge transformation that takes place. As a Real Estate investment company, I know the value of having a cleaning and good looking lawn because it leaves an impression on the buyers. The cleaner the landscaping, the better chance I have of selling my homes quickly. Thanks for always doing a great job for us and being the Right Choice for us to make.
Great service. Very honest, thorough and informative. He goes the extra mile in lawn care!
Right Choice is a full service landscape and maintenance service. Please contact us for a Free Estimate.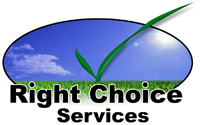 3133 N 77th Cir, Omaha, Nebraska
(402) 320-6104